If you are interested in becoming an IMVU Developer there are several pieces of software that will help you through the process of taking your designs from concept through to a finished product.
Below we have listed several options for computer applications that could do the job for you. Although in-house we use many of the industry standards (which can be expensive to a first time user), we list several less pricey alternatives.
---
The Create Mode Editor
The
Create Mode Editor
is the proprietary IMVU tool for getting your 3D models into the
IMVU Catalog
. Whether you are swapping
textures
on a t-shirt or creating you own
3D Mesh
, you will need the
Editor
to Import, Arrange, and finally
Submit
your design to the
Catalog
.
To learn more about the IMVU Create Mode Editor, please consult the
Intro to the Create Mode Editor tutorial
.
You can find the
Create Mode Editor
by clicking the
Create
button in the IMVU main screen, just click one of the arrows access Create from the main button selection. This will load the
Create Mode
main screen and give you options to start building your own IMVU products.
---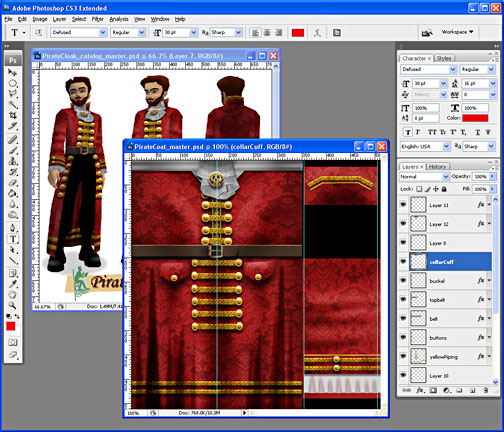 2D Applications
Whether you are making a
texture
for a
3D model
, a
Sticker
, or just customizing your Homepage, you will be using some sort of
2D application
to create and manipulate your digital images. Although Photoshop is the acknowledged industry standard, it isn't necessarily your only choice. Photoshop is what we use here at IMVU, and is by far the most powerful image manipulation software out there, but if you have limited funds you might need to look for alternatives.
---
Adobe Photoshop
The industry standard in image manipulation and an invaluable tool for creating
Textures
and
Stickers
for IMVU. Although not cheap, Photoshop is a tool that all serious computer graphic artists use every single day.
---
Photoshop Elements
The cheaper cousin of Photoshop, Elements allows you to do a lot of what Photoshop can do but for a fraction of the price. Photoshop Elements has recently gone through a complete redesign to focus it tool set on photo editing, so some of the creation tools in previous versions may be missing. It is worth checking Elements out before you buy, but it is definitely a powerful tool for anyone just starting to play with 2D image manipulation.
---
GIMP
GIMP is an open source free-ware alternative to Photoshop and you certainly can't beat the price. Still, with financial convenience you should be aware that GIMP is an ongoing effort by independent software engineers and is not completely free of bugs.
---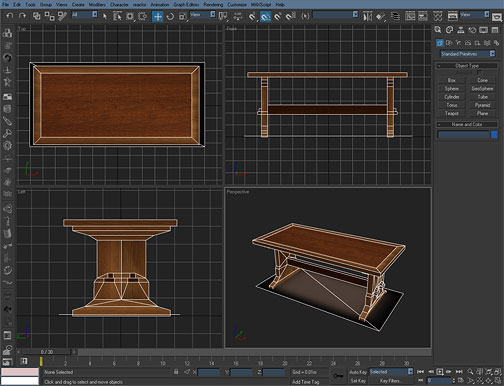 3D Applications
At its core, IMVU is a
3D environment
filled with
3D people
and places. To create the
3D
products that fill
IMVU's Catalog
, Developers have used a variety of applications and tools to take their designs from purely conceptual to purchasable. Best of all, these virtual products never run out of stock.
In addition, with the ability to
Derive
from products, your seed of an idea might just inspire other Developers to build countless new products from yours, all of which you get a small cut from each sale.
Currently IMVU only supports 3D Studio Max (2007-2017) as the "official" 3D application for building products.
We are the first to acknowledge that this very limiting, and we are working to remedy that now. Still, this hasn't stopped industrious Developers from creating alternatives to building 3D content for IMVU.
As IMVU grows so will the tools it supports, but for now these are the options available:
---
3D Studio Max
Probably one of the most expensive options available, 3DSMax is still an industry leader and the tool we use internally to build all of our products. Although there is a steep learning curve to mastering 3DS Max, all the skills learned are applicable to the real world of 3D asset creation, for both the game and movie industries.
---
Another popular option is
Blender
. As an Open Source application Blender is free to use and has an ever growing community of dedicated users and contributors.
Our community has created a wonderful introduction to Blender with tutorials on how to use it for IMVU specific projects, and offers Blender specific Exporters for helping you get your designs into the Previewer.
Google SketchUp
There is a thriving community of IMVU developers using Google SketchUp as their 3D tool of choice. To learn more please consult the
Hellstrong's SketchUp Introduction Tutorial