Reminders before getting started on a Promotional Bundle*
We are accepting submissions for GA and AP Bundles as well as a AP Clothing Bundles. AP bundles follow the same guidelines as GA bundles, the exception being the product ratings/overall theme.
Please include at least 15 products for all promotional bundles but no more then 25 products. AP Bundles should include at least 5 AP products
Please note that we are not accepting as many submissions as we did in the past, so try your best to make your bundle submission stand out from all of the other submissions.
Lastly, we'd like to remind you that submitting a GA or AP bundle for review does not guarantee that it will be accepted; our team will review it and get back to you with our decision. If you have any questions regarding the new bundle requirements please email us -
promobundles@imvu.com
Thank you and we look forward to new bundle submissions!
---
Promo Bundle Team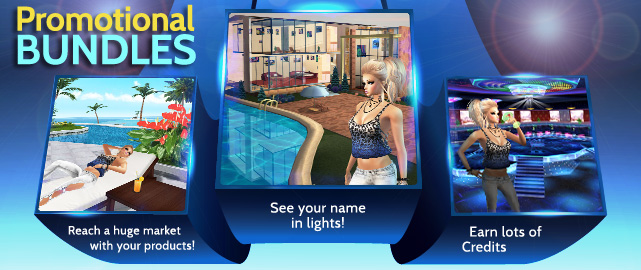 The items below are required in order for IMVU to accept a submission. The purpose of the informational items is to convey to the IMVU marketing team exactly what your PB contains.
Remember, before submitting the Promo Bundle: if your PB is a decorated room, you must decorate the room in your account *exactly how you want it to appear in the bundle*. Once you have done that, please put together an email with the following information.
Subject Line of Email should included:
* Promo Bundle Submission & the the title of your Bundle
The Body of your email should include:
* The title of your Bundle
* The title of what you have named the room
* The PID(ID) of the room
* Your creator name along with any other creators who have helped create the room.
You must fill out all the fields on the PB spreadsheet, this includes:
* Names of products included in your bundle
* The product IDs of each product included in your bundle
* The creator name of each creator included in your bundle
* Specifically make the name of the room in your bundle standout by bolding or highlighting it
* The final price or sale price of each product in the bundle
There should be attachments included in your bundle which should consist of:
* Agreement from you and all creators to lock and hide all the products included in the bundle
* The target market of the bundle (i.e. gender, age, market segment (Goth, Anime, AP))
* Agreement that all products included in the bundle abide by the Virtual Goods Policy
* 4-6 Screen shots that show how wonderful your room is.
* Triggers for any products and any other additional information you would like to include about the bundle. For example, "this is circus themed bundle that allows users to dress up like clowns and tame wild tigers." Ideally, you should include bullet points describing the highlights of what your customers can do in the bundle.
This helps immensely with the marketing of your bundle, and it gives your bundle a better chance of being accepted!
Reminder: If all of the information above is not included in your promo bundle submission that could result in your bundle not being reviewed properly. Please check to make sure all items and requirements are included in your bundle submission.
---
Looking for a great way to promote your personal brand on IMVU? Leave the heavy lifting to IMVU, submit your Promotional Bundle today!

What is a Promotional Bundle?

A Promotional Bundle (PB) is a collection of virtual goods advertised to IMVU users using tools like website banner ads, website blue bars, emails, homepage messages, and IMVU News.

PB's can be offered with virtual goods and/or credits. IMVU rewards Creators involved in the bundle with credits.

For example, if one of your products is included in a PB, you will receive full credit for your product with every bundle sold. And if someone uses a product derived from one of yours, then you'll get paid in credits, just as you would in a normal product sale.

Millions of people see the PBs, so it's a great opportunity to earn lots of credits quickly as well as grow your business via brand awareness. It's also just fun to see your name broadcast to so many people! You can take a peak at past successful PBs by visiting the bundle vault!
---
Who can submit a PB for review?
Any registered Content Creator!
What is the promotional bundle submission process?
1. It all starts with
YOU.
The first thing you need to do is download the simple spreadsheet that will help you organize your submission. Make sure you've entered the name, the product id, creator name and final price for each product.
In the case of a decorated room PB,
you must set up the room *exactly* how you want it
in your account. The tool that copies your room and furniture arrangement only works on your private rooms so please do not use Public Rooms in your submission (as we will only ask you to resubmit using a private room).
2. When you've prepared your spreadsheet and decorated your room, please email your spreadsheet to
PromoBundles@IMVU.com
3. When IMVU receives your bundle submission, an IMVU employee will review it and let you know whether your bundle has been accepted and/or what you need to change to get it published.
4. PB's should be of the highest possible quality, so you should expect to make changes based on IMVU's feedback in order to provide the best experience for your customers. Keep in mind that sometimes parts of your submission will not be used.
What do I have to know in advance of submitting a promotional bundle for review?
There are several things to know in advance of submitting a promotional bundle. These include:
All content submitted in bundles must abide by the virtual goods policy.
Only the best, most professional submissions will be accepted.
All products included in a PB are locked permanently, and they may be invisible in the catalog prior to and during the promotional period.
You, and all bundle submitters, must agree in writing to have your products locked. Individual emails from those included parties are required in order for the bundle to be accepted.
Any products which are hidden before and/or during the PB event may be unhidden when the event is over at your request. Simply send IMVU an email asking for your products to be unhidden, and be sure to list the product IDs.
You should know what group of IMVU users you are targeting. For example, is your bundle gender specific? Age specific? AP specific? This is important because IMVU splits the available customer base into groups when offering PBs. In other words, not every user sees the every single bundle offers.
IMVU accepts decorated room bundles and/or clothing bundles. For example, you can create a bundle with a decorated room and several clothing outfits, or a room bundle with various pieces of furniture, or just an outfit bundle composed of different garments. Note that if you are submitting a room bundle, IMVU can copy your room decorations and offer different decorations as part of the bundle. See the 'Slurp Tool' section below.
When you are using the PB spreadsheet, make sure that your total profit is
10,000 credits
or less, if it is over budget, your bundle will not be accepted.
The 10,000 total credit profit is the total profit calculated along the derivation chain. It is your product's profit plus the profit of the product you derived from. The 10,000 credit budget excludes profits of IMVU inc. products and all IMVU markup costs.
Room bundles must have a good opening camera position so that when the room first opens, the first two avatar seat nodes are in clear view. This ensures that a user can have a conversation without having to move the camera.
The total download time for both room and outfit bundles must be very quick. If the download time of your bundle is perceived as too slow, it will be rejected. Slow downloads are caused by large textures, high density geometry, large sound files, and long derivation chains. Please include the smallest file size products possible when submitting your bundle.
Historically, PB's that contain original, unique products sell much better than those that contain ordinary and common products. Take the time to build completely new products if you wish to optimize selling opportunities.
Pick a good room name that is logically associated with the Bundle's theme. This makes everyone (IMVU and your end customers!) happy.
For more Tips on how to build a great bundle, please consult the
Building a Great Bundle
tutorial!
---
What is the room SLURP tool?
As mentioned above, IMVU has the ability to save a copy of the furniture decoration of any room and then make any necessary changes and enhancements. We do this using our 'Slurp' tool.

When we use this tool, we make a copy of the particular styles and decorations in your submission, make any necessary changes and improvements, and then resubmit the new version into the bundle.

This allows you to keep your original room, but also gives us the ability to make any changes which will help attract more customers and generate higher sales for you.
---
Outfit bundles?
IMVU currently does NOT accept GA outfit bundles. They just don't sell. If you have an idea for an AP outfit bundle, please send it our way.
---
What does a promotional bundle submission contain?
A PB submission contains both required informational items and optional marketing items:

---
Tips for a successful promotion
Let's face it: some bundles sell better than others. Usually, the reasons why are obvious.

Interactivity
All of the bundles that have sold well to date have things to do. 'Things to do' means more than just moving from standing spot to standing spot.

People can swim. They can hop on a trampoline. They can dance. They can drive a car. They can ride a horse. And so on.

Add interactions within your bundle if you want it to have a better chance of being accepted.

Quality
Taking the time to make each individual piece included in your bundle pays off. Add those extra little details to the throne, make your trees look like trees, and make all items in the bundle work well together. Make your bundle truly beautiful and it has a better chance of being accepted.

Fog and lighting
Sometimes, we receive bundles that look very, very bad because they don't use fog and lighting to their benefit. The IMVU Previewer allows you to bask in the glory of real atmosphere and ambiance via adding fog and changing the ambient light color of the room. Having a room with no fog and no ambient light color makes it much less likely to be accepted.

Not just alcohol
AP customers typically do not pay for bundles whose sole purpose is to include alcohol. So, do yourself a favor and, if submitting an AP bundle, try to add more spice than just a martini.

Being part of a promotional bundle can be a wonderful, rewarding, and exciting experience. IMVU wishes you the best of luck with your bundles and encourages you to go crazy and unleash the power of your creativity! Who knows? Yours could be the next bundle IMVU promotes! Fame and fortune await you...so get out there and create!